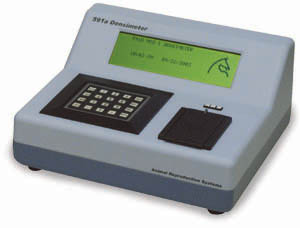 • Quick & accurate estimation of sperm concentration
• Built-in "Expert System" with on-screen help displays
fixed volume insemination doses
Costs as little as 52 Cents per measurement
• Expandable architecture allows additional species calibrations or specialized tests
• Built-in storage and retrieval of collection data
• Automatic temperature compensation of specimen compartment
• Same superior accuracy as 534B and 590 Densimeters

591B Densimeter
The model 591B Densimeter is designed to quickly and accurately estimate sperm concentration. A built-in "Expert System" then provides simple step-by-step instructions for automatically calculating appropriate insemination doses for boar semen based on a fixed dose volume. The 591B Densimeter can hold up to eight calibrations at a time and additional calibrations may be purchased and loaded as needed. Alternate species and other unique calibrations are available for Equines, Bulls, Roosters and Turkeys.

The 591B Densimeter is housed in a sturdy, lightweight plastic casing, measuring 9"x8"x4" with an approximate weight of 2 lbs. The front panel consists of a 20-button keypad and an illuminated liquid
crystal display (LCD) panel. Located on the back is the power switch, power receptacle and a USB communications port which is used for connection to a personal computer.

The 591B Densimeter is sold as a kit which includes all equipment and supplies needed to complete 100 semen concentration measurements. Additional supplies may be purchased as needed from Animal Reproduction Systems. The 591B Densimeter kit includes a universal power supply (120V / 240V operation), instruction manual, required peripheral equipment and Calibration Loader CD.

A 12 volt car adapter, additional species calibrations, species processes or alternate tests may be purchased separately from Animal Reproduction Systems.

The 591B Densimeter features a temperature stabilized Specimen Compartment which increases accuracy in some applications and a built-in Data Storage to store test results. Automatic calibration adjustments are performed before each test, eliminating the need for any additional calibration procedures.

Included on the Calibration Loader CD is the Densimeter Data Utility. This utility program downloads test data from the 591B Densimeter and stores the results into Excel spreadsheets or advanced database applications.

Please contact Animal Reproduction Systems for pricing and availability of alternate species calibrations.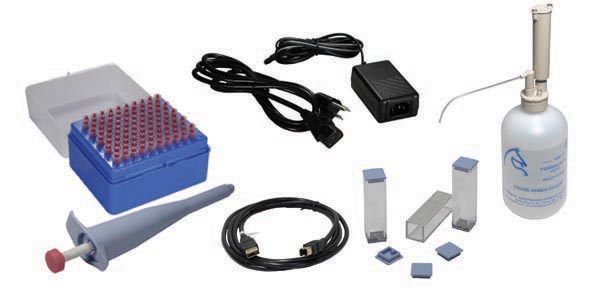 Specifications
- Height: 4.5 in.
- Width: 9.0 in.
- Length: 8.0 in.
- Weight: 2.6 Lbs. (Densimeter only)
- External Power Supply: 100 - 240 VAC, 47 - 63 Hz input, 12 VDC 1.5A output.
- Storage Capacity: 300 Collections and 250 Boars.
- Computer Requirements: Calibration Loader Software requires a PC with CD-ROM drive
running Windows® 98 or Windows® XP. (Systems without serial ports require
a USB to Serial Adapter, sold separately)
The Boar Densimeter Kit (DENK-903) includes:
Animal Reproduction Systems
800-300-5143