Two-legged, non-hydraulic Breeding Phantoms are available in contoured and non-contoured body styles. The contoured style allows for easier access with the A.V. during collection. The contour phantom body is 6-feet long and 21 inches in diameter. The regular breeding phantom is 6-feet long and 20 inches in diameter.

Both style phantoms are covered with 22 oz . heavy duty vinyl coated polyester fabric. The cover is stretched to fit the body. The cover is available in Black, Brown and Gray.

The front and rear legs have an independent height adjustment system. This allows you to easily adjust the height and angle of the phantom. The angle is adjustable from level to around 20 degrees. We recommend that you set the height of the mounting end at the approximate height of a mare that your stallion would breed.

Assembly is simple! The legs and body are assembled individually. After the leg sleeves are set in concrete, the legs are attached to the body. This requires only one bolt per leg and the bolts are included in the shipment.

The Breeding Phantom is warranted for a full three years.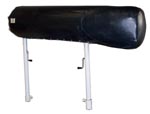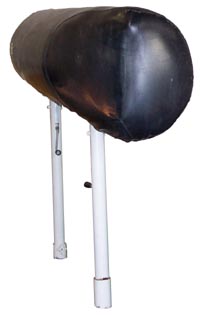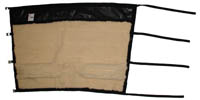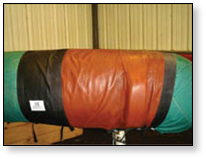 Optional fleece covers are available in two styles. The standard cover fits over the midsection of the Phantom Breeder and provides increased comfort for the stallion. A deluxe version features added "hips' for more secure mounting.
The fleece cover measures 40 inches long by 4 feet wide at its mid point. Total length of straps, measured from attachment buckle to end of strap is 6 feet 6 inches.
Breeding Phantom Accessories (Fit hydraulic and non-hydraulic phantoms)
The new Single-Leg Hydraulic Breeding Phantom combines proven contour body style with enhanced usability. The push buttom control provides 30" of quiet travel. The minimum height of the phantom is 39" from the top of the phantom (18" off the ground from the bottom of the phantom) to a maximum height of 69".

Lowering the hydraulic lift is silent and the speed is adjustable. This helps to ensure a more safe and comfortable platform, not only for older stallions, but also in situations where a youger stallion might "high center" himself on the phantom- a potentially dangerous predicament for both stallion and technicians.

The hydraulic Phantom has self contained power. The battery is conveniently located inside the phantom body so there is no need to run electrical power to it under the floor. For simplified battery maintenence, a battery tester and tender are attached to the phantom.
Single Leg Hydraulic Breeding Phantom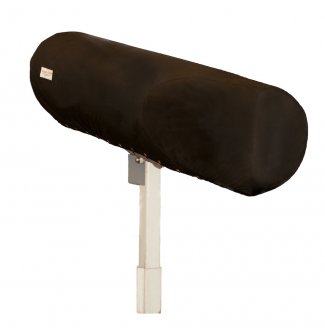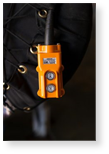 Single-leg Hydraulic Breeding Phantom
Two-legged Non-hydraulic Breeding Phantom
---
---
ARS now offers both hydraulic and non-hydraulic breeding phantoms. The new single-leg hydraulic phantom joins the popular two-legged, non-hydraulic model; making it easier to find the right fit for your facility.
Two-Legged, Non-Hydraulic Breeding Phantoms
Animal Reproduction Systems
800-300-5143