E-Z Freezin®-"LE" and E-Z Freezin® -"MFR5" extenders are recommended for equine frozen semen breeding programs.The "LE" version is a Lactose EDTA formula and the "MFR5" is a Modified French formula. Both of these extenders contain the antibiotic Ticarcillin.

While the conventional methods for freezing stallion semen suggested that E-Z Freezin®-"LE" should be processed at room temperature and E-Z Freezin®-"MFR5" should be cooled to 5
º
C prior to packaging, recent studies have shown that both methods can be used with these extenders. In general, pre-cooling to 5
º
C is beneficial for most stallions but is not required.

All E-Z Freezin® extenders are sold in packs of five 15 ml hermetically sealed, foil-lined packets. All E-Z Freezin® extender lots are evaluated prior to sale by the Colorado State University Animal Reproduction and Biotechnology Laboratory to ensure a superior quality product.


NEW - Summer 2015
E-Z Freezin™ -"LE" is now available in 5-packs with no additional dry ice / blue-ice packaging fee.
Description
Part Number
Price/5-Pk
NOTE: Due to the temperature sensitivity of this product, return of E-Z Freezin™ -"LE" Semen Extender is not accepted.

Customers who purchase this item also purchase:
E-Z Freezin® -"LE" and "MFR5" Equine Semen Extenders

---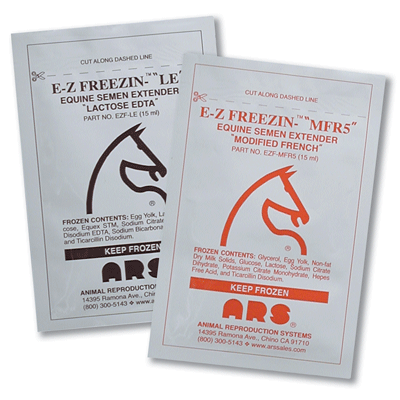 E-Z Freezin™ -"LE" Equine Semen Extender, 15ml (pack of 5)
Price
Ordering E-Z Freezin® Extenders : Due to the special shipping requirements of E-Z Freezin® Extenders, it is requested you contact Animal Reproduction Systems when ordering this product at this time.

Part Number
Price/5-Pk
Description
E-Z Freezin™ -"MFR5" Equine Semen Extender, 15ml (pack of 5)
Price
Animal Reproduction Systems
800-300-5143