All new "Bright Medium" Optics

Designed for quick estimation of sperm motility

Highly portable Simple to operate

Easy to clean

Monitor sold separately
The Video Microscope Kit contains everything needed to estimate bull sperm motility. The Video Microscope incorporates high quality NikonŽ phase contrast optics and an integrated precision heated stage. The magnification of the Video Microscope is equivalent to the field of view of a conventional 200X microscope. The Microscope is sealed in an aluminum case with a detachable lid and handle, allowing for easy transport. The Video Microscope Kit also includes the typical disposable glassware used for determining sperm motility. A 9" Monochrome Monitor is available separately.

The Video Microscope may be set up using several different display options, such as direct connection to a monitor, VCR, or television (some TV's may require external RF modulator). When used with a VCR, permanent records of the sperm motion may be recorded for future reference. For foreign purchases, a 230V PAL format model is available.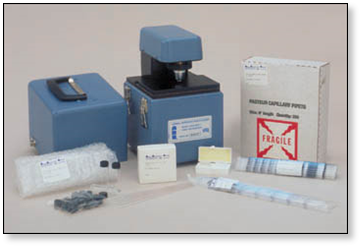 Qty
The Video Microscope Kit (VMK-304) includes:
Customers who purchase this item also purchase:

•

•

•

•

•
New: Nikon "Bright Medium" optics provides superior dark field image, and is ideal for motility estimation. Sperm are illuminated on a dark background for an easier view of their motion.
| | | |
| --- | --- | --- |
| Qty | Description | Part Number |
| 1 | Model 569A Video Microscope,115V/60HZ-NTSC | 569A-MOD3 |
| 1 | Slides, Glass, Pre-cleaned (25 x 75 x 1 mm)(72/pkg) | 569A-243 |
| 1 | Cover Slips, Glass (22 x 22 mm)(150/pkg) | 569A-244 |
| 10 | Disposable Glass Pipette, 5.0 ml | 537-501 |
| 50 | Disposable Glass Pipette, 1.0 ml | 537-504/50 |
| 1 | Pipette, Pasteur, Borosilicate Glass, 9" (200/pkg) | 537-503/200 |
| 24 | Vial, 2 dram | 537-520 |
| 1 | Video Cable | 569A-231B |
| 1 | Video Adaptor | ARS-EPJS5319 |
| 1 | Power Cord | ARS-EPZS17250 |
| 1 | Video Microscope Shipping Carton | 569A-253 |
Animal Reproduction Systems
800-300-5143