The E-Z Records™ 2.0 Equine software for Windows 7/Vista/XP offers an exciting, easy to use method of managing any equine breeding operation. This program allows ARS Densimeters to communicate directly with a personal computer. Version 2.0 of the E -Z Records™ Equine program is designed to work with all 591 and 590 Densimeters. In addition, the legacy 534B Densimeter is still supported.

E-Z Records™ keeps track of your breeding program by recording information into a database for later reporting and review. Stallions and their mare book are grouped into "farms" and statistical information for these groupings are automatically generated. Information recorded into the farm database includes stallions, individual collections, doses, and booked mares. Convenient reports on each collection, stallion summary, transported dose, and mare insemination history may be printed.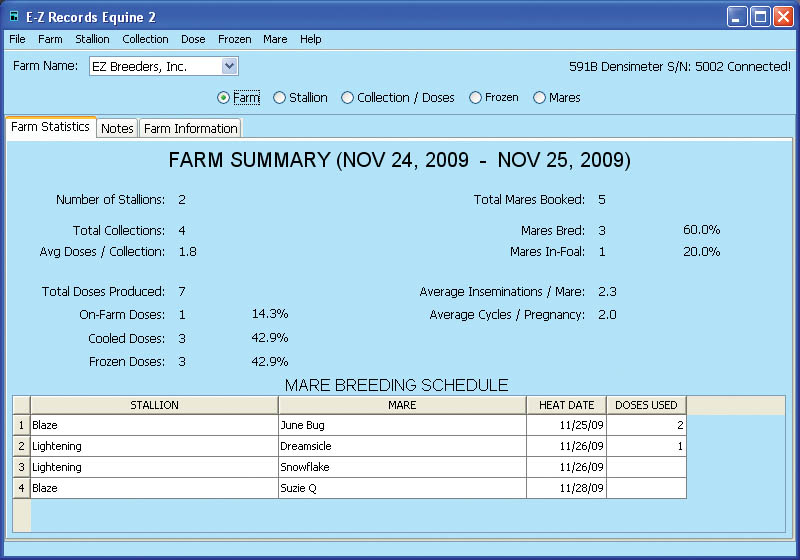 Changes in Version 2.0
• Improved Report Generation: E-Z Records™ report generation has been completely updated to
improve printing speed and quality. Your custom logo may now be added to the top of each report.

• Frozen Dose Calculator to assist in the freezing process.

• Frozen Dose Manager tracks frozen doses and generates frozen dose transport and summary reports.

• Mare breeding schedule display to help manage in heat mares.

• Automatic detection of 590B and 591B Densimeters.

• Transfer saved collections from 591 series Densimeter into E-Z Records™.

• Windows 7 and Vista compatibility.
System requirements: Windows® XP, Vista and Windows® 7 operating systems.
The E-Z Records™ program is encoded to work with a specific serial numbered Densimeter. When ordering this item please enter the Densimeter's serial number into the serial number area below.
E-Z Records Equine Software
---
Animal Reproduction Systems
800-300-5143