Storage Dewar/Vapor Shipper neck corks are available as replacements or spares to those included with the Storage Dewars or Vapor Shipper. Having a spare neck cork protects your valuable frozen semen stock in the event that the original cork is lost or damaged.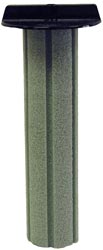 Qty
*Important Shipping Information:
Due to the special shipping requirements of this item, shipping costs may vary considerably. Please contact ARS to determine actual shipping costs. These items may only be shipped within the United States.
Customers who purchase this item also purchase:
---
•
•
Animal Reproduction Systems
800-300-5143