• Inexpensive

• Easy to Prepare

• Will enhance fertility of most stallions
E-Z Mixin® -"CST+" is our popular cooled, stored and/or transported extender with the addition of Potassium Penicillin G in a pull-apart capsule. The combination of Amikacin and Potassium Penicillin G has been shown to increase motility in some stallions.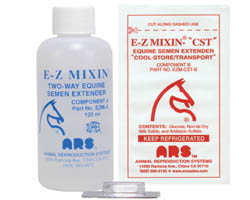 E-Z Mixin® Semen Extenders are sold individually or in case lots. Each "CST+" kit consists of three components: Component A is a plastic bottle of USP purified water, Component B is a hermetically sealed packet containing the dry powder formula and Component C is a pull-apart capsule that contains the antibiotic..

Animal Reproduction Systems takes great care and pride in the methods used to produce, test, package and store E-Z Mixin® so that customers receive a fresh, quality product. E-Z Mixin® is a perishable milk-based product and requires some special consideration to minimize unfavorable exposures during shipping and after it is received. Excessive heat or extended time without refrigeration may damage the product. As a general rule, ARS recommends that customers use what they order within six months. Fresh batches of extender are produced and stocked throughout the year to support this recommendation.

ARS recommends that the extender be in transit no more than three days. It has been shown that extended exposure to excessive heat may reduce the sperm motility of some stallions. The customer should take into consideration the day of the week the product will be shipped when choosing a shipping method. E-Z Mixin should be shipped early in the week to avoid being in shipment over a weekend.

NOTE: Due to the sensitivity of all milk-based products, return of E-Z Mixin® Semen Extender is not accepted.

E-Z Mixin® Semen Extenders are sold by the Animal Reproduction Systems division of Dupree, Inc. under exclusive license with the Colorado State University Foundation. The formula for this complete Extender was evaluated by Colorado State University Animal Reproduction and Biotechnology Laboratory.
Customers who purchase this item also purchase:
E-Z Mixin® -"CST+"Semen Extender with Potassium Penicillin G
---
| | |
| --- | --- |
| Shipping Day | Shipping Method |
| Monday* | 3 Day Service |
| Tuesday* | 3 Day Service |
| Wednesday* | 2 Day Service |
| Thursday* | Next Day Service |
Animal Reproduction Systems
800-300-5143