Ordering CryoMax™: Online ordering of E-Z Freezin is now possible. Mixed shipments of multiple E-Z Freezin types will be combined into a single box to reduce shipping costs when possible. Credit cards are not charged during online check-out. Final shipping costs will be sent to customer via email on such orders.
NOTE: Due to the temperature sensitivity of this product, return of E-Z Freezin® CryoMax™ LE Semen Extender are not accepted.

E-Z Freezin
®
CryoMax Canine Semen Extenders
---
E-Z Freezin® Cryomax™ LE Canine Freezing Extenders are the result of the latest collaboration between Colorado State University and Animal Reproduction Systems, Inc.

E-Z Freezin® CryoMax™ LE Canine extenders are packaged in 3 ml hermetically sealed packets and sold in 12-packs containing a total volume of 36 mls. All ARS extenders are evaluated by the Colorado State University Animal Reproduction and Biotechnology Laboratory to ensure a superior quality product.


E-Z Freezin Semen Extenders may be stored frozen for two to three years in a non-frost free freezer before use.

Product is shipped on a combination of dry-ice and ice packs allowing for two day shipping year round. ARS suggests shipping freezing extenders Monday through Wednesday to ensure the extender is not en route over a weekend. During the cooler months, three day or ground shipping is possible at the customers discretion. Contact ARS for details.
• Easy to Use

• Tamper Proof Package

• Rigorous Quality Control

• CryoMaxTM LE Extender - Best in Industy


All shipments of E-Z Freezin® CryoMax Extenders include certification of production using eggs that are produced by a flock that is certified Specific Pathogen Free. The flock is certified free of the following pathogens: Avian Adenovirus Group I, Avian Adenovirus Group II (HEV), Avian Adenovirus Group III (EDS), Avian Encephalomyelitis, Avian Influenza (Type A), Avian Reovirus, Fowl Pox, Infectious Bronchitis-Ark., Infectious Bronchitis-Conn., Infectious Bronchitis-JMK, Infectious Bronchitis-Mass., Infectious Bursal Disease, Infectious Laryngotracheitis, Lymphoid Leukosis (A, B), Lymphoid Leukosis Viruses, Marek's Disease (Serotypes 1,2,3), Mycoplasma gallisepticum, Mycoplasma synoviae, Newcastle Disease, Reticuloendotheliosis Virus, Salmonella enterica seruvari, Pullorum and Gallinarum, and Salmonella.

Research at the Colorado State University has determined that thawing during shipment and subsequent refreezing does not adversely affect this product. They have decided to have their E-Z Freezin® Cryomax™ Extenders shipped using more economical services during the cooler months of the year.

E-Z Freezin® Semen Extenders are sold by Animal Reproduction Systems under exclusive license with the Colorado State University Foundation. The formulas for these Extenders were developed in coordination with the Colorado State University, Animal Reproduction and Biotechnology Laboratory. Each E-Z Freezin® lot is evaluated by the CSU to ensure a superior product.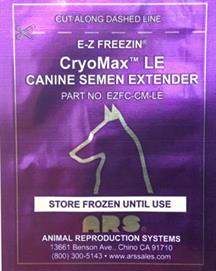 Animal Reproduction Systems
800-300-5143