• Quick & accurate estimation of sperm concentration
• Built-in "Expert System" with on-screen help displays
• Fixed volume insemination doses
• Costs as little as 52 Cents per measurement
• Expandable architecture allows additional species
calibrations or specialized tests
• Built-in storage and retrieval of collection data
• Automatic temperature compensation of specimen
compartment

591B Densimeter
The model 591B Densimeter is designed to quickly and accurately estimate sperm concentration and automatically perform all calculations required to create appropriate insemination doses. A built-in "Expert System" provides simple step-by-step instructions for evaluating boar semen.

The 591B Densimeter is housed in a sturdy, lightweight plastic and metal casing, measuring 9"x8"x4" with an approximate weight of 2 lbs. The front panel consists of a 20-button keypad and an illuminated liquid crystal display (LCD) panel. Located at the back is the power switch, power receptacle and a RS232C Serial Communications Port which is used for connection to a personal computer. The 591B Densimeter has a temperature stabilized Specimen Compartment which increases accuracy in some tests. In addition, an automatic calibration is performed before each test, eliminating the need for any additional calibration procedures.

The 591B Densimeter is sold as a kit which includes all equipment and supplies to complete 100 semen concentration measurements. Additional supplies may be purchased as needed from Animal Reproduction Systems. The 591B Densimeter kit includes a universal power supply which operates on any power outlet with voltages ranging from 100 to 240 VAC. It may also be plugged into a 12VDC vehicle outlet using the included adapter.

The Bull Densimeter kit will calculate insemination doses based on a fixed dose volume. Both operations use the measured sperm concentration and two user entered values (gel-free semen volume and percent motility) as input for insemination dose calculations. The built-in Expert System recommends the number of progressively motile sperm cells, calculates the total number of available doses and volume of gel-free semen for each insemination dose. All parameters used in these calculations can be easily modified to provide maximum flexibility for the skilled operator. Additional species calibrations, semen processes or alternate tests may be purchased separately from Animal Reproduction Systems and installed by the operator.

Please contact Animal Reproduction Systems for pricing and availability of alternate species calibrations.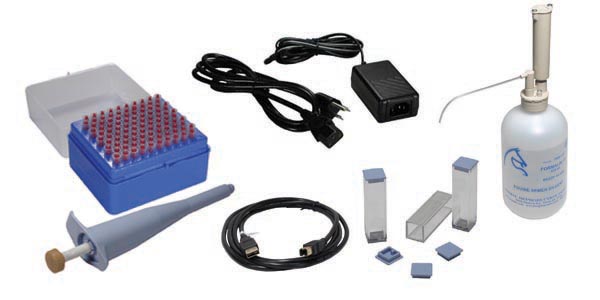 The Bull Densimeter Kit (DENK-907) includes:

Specifications
- Height: 4.5 in.
- Width: 9.0 in.
- Length: 8.0 in.
- Weight: 2.6 Lbs. (Densimeter only)
- External Power Supply: 100 - 240 VAC, 47 - 63 Hz input, 12 VDC 1.5A output.
- Storage Capacity: 300 Collections and 750 Bulls.
- Computer Requirements: Calibration Loader Software requires a PC with CD-ROM drive
running Windows® 98 or Windows® XP. (Systems without serial ports require
a USB to Serial Adapter, sold separately)
Animal Reproduction Systems
800-300-5143